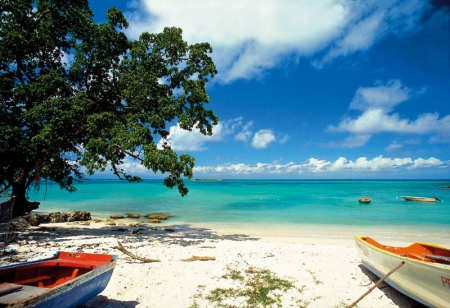 AUTHENTIC
Well preserved both on the natural and cultural levels, Marie-Galante  or "the island of a hundred mills"  seduced by its authenticity, its preserved beaches and its tranquility. Of very rounded form, Marie-Galante (also called "the big cake") is shaped by the exploitation of the sugar cane and its distillation (the island provides the best and the strongest rum of Guadeloupe). Composed of three communes, Grand-Bourg, Capesterre and Saint-Louis, Marie-Galante has kept the charm of yesteryear. It is still possible to meet the oxcarts (formerly the only means of transport) or to attend a cockfight or one of the competitions of oxen-rods. Its white sand beaches give off a scent of serenity.
Every year, in June (during the weekend of Pentecost), Marie-Galante, hosts the Festival of Blues Land, undoubtedly the biggest musical event of the archipelago.
The local specialties are the bocélé, traditional dish, based on tripe and green banana and the warmth, fire pot Marie-galantais.
Some unavoidable sites:
Château Murat, former sugar factory
The beach of the Feuillère
The Church Notre-Dame
The mill of Bézard, the only one in activity today.
The Bellevue, Bielle and Poisson distilleries (and its famous Père Labat rum)
The Anse-Canot beach, a small cove between two hills